The company represents and distributes new machines manufactured by the major and most advanced companies, leading the and flexible packaging and plastic bags industry, including: KBA- FLEXOTECNICA, CERUTTI, MARTIGNONI SRL FERRARINI & BENELLI, GUR-IS and more.​
Flexographic Central-Impression Printing Presses Machine
​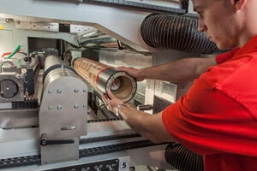 Rotogravure Printing Presses Machine​
SPECIFICATION
Web width: standard 1300 mmPrinting cylinder standard repeat range: 450 - 920 mmSuitable for printing: Film, annealed unsupported aluminium foil, paper laminates and cartonboard (max web width in this last case 820 mm)Drying system: Each printing unit can be equipped with drying hoods of different length, with thermic oil heatingMax design speed: 450 m/minAvailable models: With trolley
​
Solventless and Dry Lamination Machine , Slitting Machine
SPECIFICATION
Taper tension control mechanism.
World renowned thermoregulation system.
Vapour absorption system (for carciogenic fumes). Dozing-mising & dispensing unit. Ultrasonic Edge System.
A.C. motor at both unwinder and Rewinder.
Speed upto 450 mtr/min.
Taper tension control mechanism.
World renowned thermoregulation system.
State-of-the-art Management Information System for ultimate efficiency in production management giving you the real time trend of important information at your finger tips such as total running time, running time during each shift, machines stop log, stop due to any system fault log etc. MIS can also be tailor-made as per customer requirements.
Ultrasonic Edge Sensor controlled by Digital Drive.
Speed upto 300 mtr/min.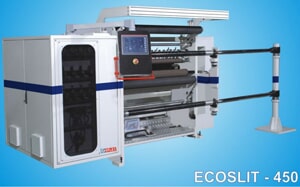 A High Speed Duplex Slitter and Rewinder with Simplex unwind stand, Duplex Rewinder, AC Motor Digital Drive system, trim collection
arrangement.Speed up to 450 mtr/min
Corona Treatment for Converting​
SPECIFICATION
High-performance treatment station for non-conductive plastic film, guarantees high levels of surface treatment at high speed, even with more difficult materials that require very high power coefficients. Especially suitable for installation on lines for cast extrusion, extrusion coating, flexographic and rotogravure printing, laminating and coating machines and to treat materials with significant thickness, such as foam materials.​
IGBT TECHNOLOGY HIGH FREQUENCY GENERATORS OUTPUT POWER FROM 3KVA UP TO 14KVA​
The corona treatment system can be integrated with the customer's line control PLC through fibre-optic or communication protocols such as RS 485, Profibus, Profinet, Canbus and Ethernet etc. From a single exit, thanks to these new languages, it is possible to give all the information to the central processor.
The operator thus controls the whole process with a single control panel.
The software of the generator is able to independently manage the power circuit to protect it from any abnormalities such as voltage spikes or irregularities of the power line, to protect all components. Also regulates power automatically according to the speed of the line.​
Corona Treatment for Blow Film Machine ,Label Printing Machine
​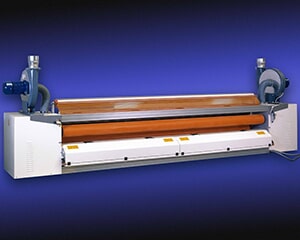 Martignoni "Coroflex HP" corona station unit offering an improved 14 finned, flip up style segmented electrode.
This new design provides significantly more corona dwell time while still offering fine width treatment control with minimal expansion and heat deflection problems commonly experienced during operation of the corona treating system.
The new design also provides a precise, uniform air gap across the web width for a consistent, high-level of treatment throughout the production run.
Coroflex HP units are available in different standardized configurations to suit different speeds, treat widths, and budgets​
IGBT Generator 30Khz work frequency , high performance available power between 3kva up to 18Kva​
This Corona is essential in label printing.
Therefore these systems are not only designed for our customers in narrow web printing, but also to help to obtain a long lasting quality print.
The new innovation is the Quick Change of Electrodes group.
The electrodes are placed in an easy removable Quick Change cartridge.
The Corona stations are equipped with highly efficient ceramic electrodes for conductive and non-conductive films. It can be upgraded from four to six electrodes.
​
Plastic Bag Making Machine
Side Seal Bag Making Machine
SPECIFICATION
​
High Speed Wicket Bag Making Machine
SPECIFICATION
Glue Patch Handle Bag Making Machine with Wicketer System
SPECIFICATION
​
High Speed, Servo Motor System, Soft Loop Handle Bag Making Machine
SPECIFICATION
​
Single Line T-Shirt Bag Making Machine with Fully Automatic Press
SPECIFICATION
​
Bottom Seal Bag Making Machine
SPECIFICATION
​

Multi Type Folding (C,V,Z,G etc) Perforated Garbage Bag on Roll And Perforated Bottom Seal Bag on Roll Making Machine (Coreless)
SPECIFICATION
​
Roll to Roll, Perforated, Bottom Sealed Bag Making Machine
SPECIFICATION
​
HDPE/LDPE BLOWN FILM (EXTRUDER) MACHINES​
MONO BLOWN FILM EXTRUDER
SPECIFICATION
​
ABA COEX BLOWN FILM
SPECIFICATION
​
HDPE/LDPE RECYCLING MACHINE
SPECIFICATION
​
SPECIFICATION
* Higher printing speed up to 500 m.p.min (1641 f.p.m) on request
​